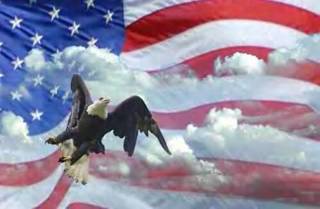 (published in
The Village Broadsheet
)
Election time is upun on us, bringing with it all the pagentry of the Olympics and all the eager anticipation of a Charles Manson parole hearing. The two candidates before us a both finely tuned political animals; two parts of the global political machine that are completely capable of appearing independant. While the media mulls over every nuance of the upcoming election, I've found most interesting the fringe movements who go to extreme lengths to persuade a nation of discontent and uninterested voters. Forget yard signs and bumperstickers. Let's see how far we can go!
Rock the Vote. Old Hat. Heard It. Fuck the Vote! Now we're talking.Fuck the Vote's homepage implores "Sexy Liberals of the U.S. Unite in taking back the government from the sexually repressed, right-wing, zealots in control!". The way it provides for this to change to come about is simple. Register at fthevote.com and find an attractive conservative slub willing to trade his or her vote for a quick toss. The would be lovers sign a pledge promising to vote for Kerry (our more appropriately against Bush) and get laid. Done and done. The site comes pictures of those willing to screw for change and a searchable database by state were lonely conservatives dare liberal loins to change their minds. It also hosts grassroot meat-ups and celebrities such as Michael Moore are pictured on the site lending support-in spirit if not in body. Not to neglect commerce, the site also sells Fuck the Vote condoms and bookmarks.
Another way sex has been used to influence the upcoming election comes not from true believing girls next doors but from the porn industry. Videos featuring the No More Bush Girls shaving their crotches for change are available on p2p networks along with websites such as newsfilter.org. Hey, it beats cold-calling and fliers.
But who's winning in the hearts and crotches of America really? Collegehumor.com polls national opinion via pictures of nude coeds who have either written Kerry or Bush on their bodies. Even in this poll, it's close.
But what if you want to get laid, but are a staunch replublican? What if you want to get laid, but are unsure which way you want to vote? For you there is hope. You can have a votergasm!
Votergasm works much the same way as Fuck the Vote, but in a less partisan fashion. It wants young people to get involved, then get naked, without political pretext for the action. Votergasm.com has an interactive pic-rating section where you can guess if someone is an ass or a trunk as they put it and also features a message board that lists all the election night orgies to come. Democracy on the march!
While there are few bigger ways to make an impression than through sex and nudity, there is one-death. We've all seen the picture of monks burning themselves and heard of radicals blowing themselves up on buses for one political cause or another. In the obituary section of my hometown newspaper this Sunday a grieving family remembered their lost mother. They wrote about her as a parent, teacher, and activist, and asked that in her memory I please vote for John Kerry.
This whole bizarre mess will be over in less than a month and I'm glad because under all the teasing and screwball attempts to influence the elections there is a core of seriousness. We are at war. There are serious economical and social issues at stake. For me, that takes all the fun out of it. I need real comedy. Unscripted. Unformulated. How long before they interview Manson again?